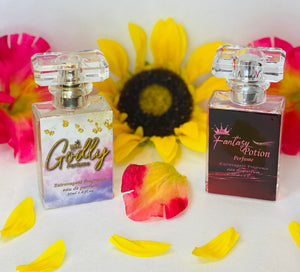 Double the trouble! This Dual Complete set is all you need. Enjoy two of our top selling perfume for a fraction of the price. Receive 2/30ml 2oz bottles of greatness.
Description:
*Godly- is a feminine oriental vanilla scent. Top notes are sparkling fruits and caramel followed by sweet almonds. The intoxicating blend of Madagascar vanilla is heaven sent. *Fantasy Potion- is a burst of fresh aromas such as pear, freesia, and magnolia. Designed to capture the captivating and seductive glow of paradise. Both fragrances leave your soul at ease. They smell so amazing!
 Both fragrances can also be applied to target areas for a brilliant shimmer. Perfect for all season and body types.
*All fragrance comes with a special gift when you spend $50 or more